Including two membranes in the system helps to minimize wastewater generation and prolong the lifespan of the DI resin. When combined with a pressure gauge and TDS meter, these additions create a complete RO/DI system that offers efficient water purification and effective monitoring.
The single color-changing DI stage comes with its own bracket, which enables a higher capacity of DI resin compared to our elementary series. Additionally, it allows for a customizable installation based on the available space. H
ighly suitable for the majority of wells and city water treated with chlorine or small amounts of chloramines.
5 Stage 150 GPD Water Saver RO/DI Features - 
0 TDS water guaranteed 

Makes up to 150 gallons of zero TDS water per day 

Manual Flush Valve: Effortlessly flush the system with a simple turn of the ball valve, saving time, preventing leaks, and ensuring efficient operation.

Pre-installed universal sized filters 

Quick Connect dual EPDM O-Ring fittings

1.5:1 Waste to Product Water Ratio

10 Ft Each of 1/4" White, Red and Black Tubing
At LiquaGen, we prioritize the use of the highest quality materials and latest technology to build our RO/DI systems. Originally designed for reef tanks, our systems have proven to be versatile, serving various applications such as hydroponics, dental offices, and humidifiers. If you're seeking a dependable RO/DI system that produces zero TDS water, look no further. All our systems are proudly built in-house in California, ensuring meticulous quality control. Explore our wide range of reverse osmosis systems tailored to your needs and budget.
4-Stage Space Saver RO/DI Systems:
Perfect for small reef tanks and customers with limited space. Ideal for city water with minimal contaminants. Not recommended for well water. Highly portable with easy and fast inline filter changes.
5-Stage Elementary RO/DI Systems
: Our most popular series built on one frame. Best for beginners. Upgradable as your reef tank grows with an extra carbon block unlike other 4-stage systems in the market.
5-Stage Premium RO/DI Systems:
Great for city water or pre-treated well applications. Features an easier-to-see pressure gauge and extra standalone DI with larger resin capacity compared to the elementary series.
6-Stage Elementary RO/DI Systems
: Standalone system for customers who prefer convenient filter changes. Includes a backup DI that catches any creeping TDS, providing more time between filter replacements.
6-Stage Heavy Duty RO/DI Systems
: Suitable for customers unsure about water quality or installation location. Offers multiple source water connections and dual standalone DI chambers for easier cartridge replacements.
7-Stage Elementary RO/DI Systems:
Designed for reefers who prefer a simple and solid RO/DI system without additional gauges, meters, or upgraded installation hardware. Three stages of post-RO filtration ensure long-lasting zero TDS water. Also available in anion, cation, and mixed variations for more accurate filter change timing.
7-Stage Pro RO/DI Systems:
Tailored for professional reefers committed to long-term success. Ideal for experienced tank owners seeking top-notch filtration. Features standalone DI canisters separated by anion, cation, and mixed bed resin, along with comprehensive installation hardware and upgrades.
UNDERSTANDING THE UPGRADE OPTIONS -GPD
- Gallons of water the system can produce in a 24- hour period.
Glycerin Pressure Gauge
- Monitor feed water pressure for optimal performance. It will also make pressure drops apparent which can tell you that pre-filters need to be changed out.
Dual TDS Meter
- Helps monitor the TDS (total dissolved solids) in two places on the RO unit. This helps notify you of the water quality and when to change out the RO membrane & DI resin cartridges. This is the most important upgrade option for an RO/DI unit.
Water Saver
- On an average an RO system wastes 3-4 gallons of water for every gallon purified. The water saver kit recycles the wastewater reducing waste by 50%. A minimum of 65 PSI is needed for optimal flow.
---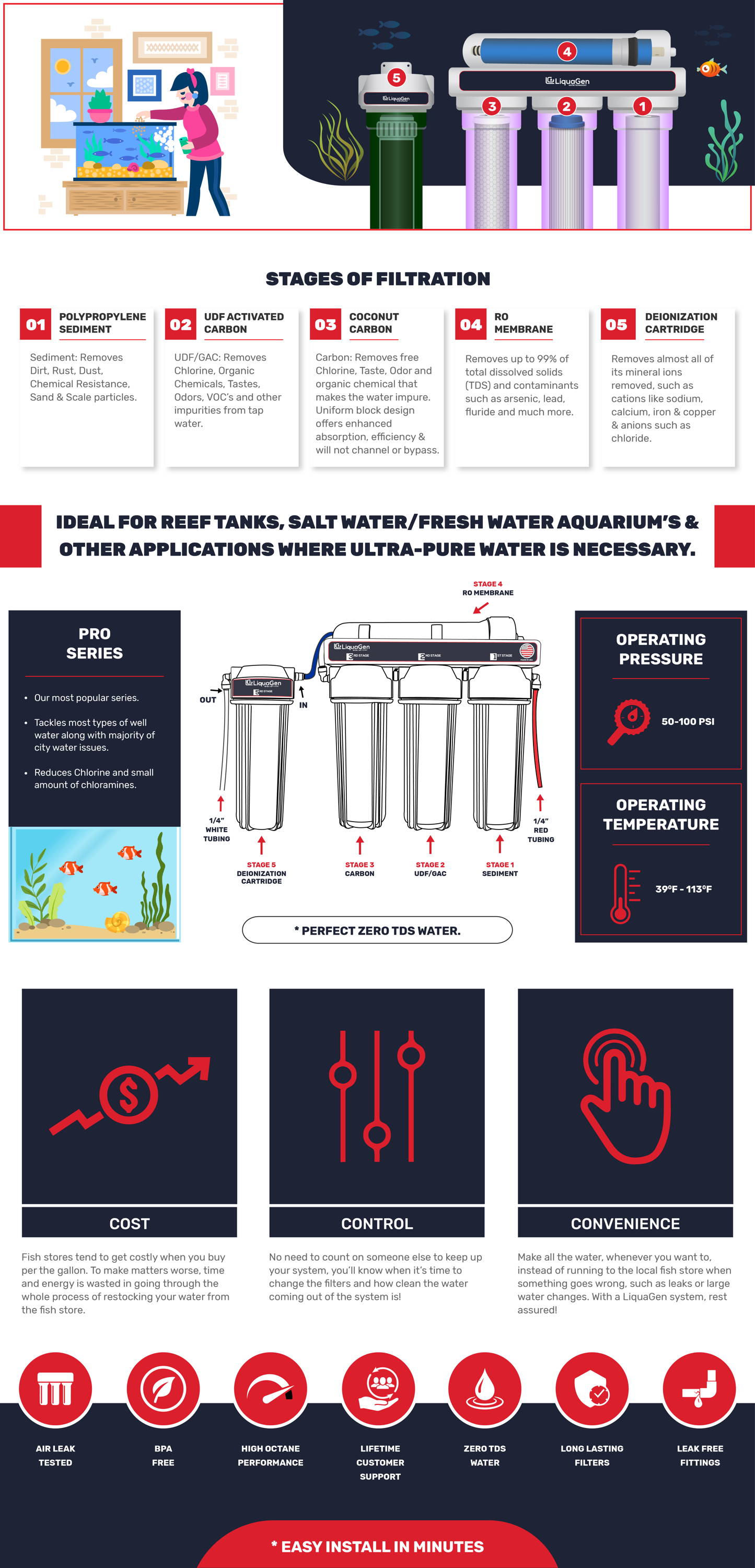 ---